Lush Kitchen | March 2016
For those who don't know, the
Lush Kitchen
cooks up small batches of exclusive products that are only available for a limited time until they sell out. The products available are a mix of Oxford Street exclusives, old favourites that have been discontinued or one off's. Since I've tried the majority of the Lush bath bombs and bubble bars that are in the permanent collection, I've been loving the Lush Kitchen recently and have been making quite an order pretty much every week. I'm mainly interested in the bath bombs, bubble bars, bath melts and shower gels. Although there are a few products that I have bought simply because I've never tried them before.
Instead of posting several different shopping posts, I'm going to be writing a little overview of the previous months Kitchen products. Since there is a limited amount of each made, then by the time each one arrives in the post it'll probably be sold out. Instead I'm hoping this post will high light any products you'd like to try in the future or simply because you're just as obsessed with Lush as I am.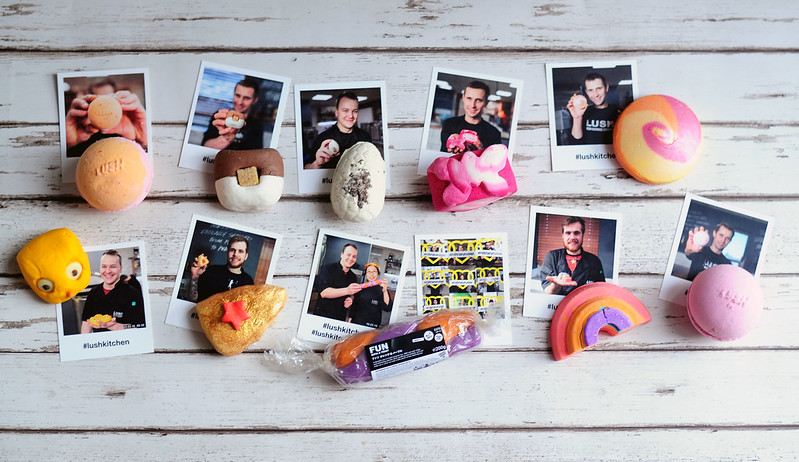 Uluru Bath Bomb | £3.95 //
The design of this bath bomb was inspired by Australian sunsets. The scent is sweet orange, lemon myrtle and sandalwood oils. I get quite a strong olive scent when I smell the bath bomb which I don't like but luckily I can't smell it once it hits the water though. Now I've tried it I wouldn't buy it again if it comes out again and I was able to take Uluru Shower Gel off my to try list because of this and so have saved myself a bit of money.
Tweet Bubble Bar | £3.95 //
I love the design of this one and how each bubble bar differs slightly and each seems to have its own personality. The scent of this one is tangerine and is quite simple.
Ma Bar Bubble Bar | £3.95 //
This honey and chocolate scented bubble bar is one of my all time favourites and I could not believe it was being discontinued. I've bought so many of them over the years but I never got a chance to stock up before they were discontinued so now is the first time I've been able to do so. I bought three which definitely isn't enough but there was a couple other products I wanted from the menu that week.
Wonder Woohoo Bubble Bar | £3.95 //
This was a last minute addition to my order when I was buying Flutterby and Ma Bar. It shares the same ginger scent as The Sun which I have as a bath oil. It's not one of my favourites but I do like the scent and I think it'll work well in bath cocktails.
Choccy Egg Bath Bomb | £3.75 //
There is something about the scent of this one that I just don't like and I think it's the mimosa. The mix of vanilla and chocolate just doesn't go well with the hint of floral. This also seems to be a bit smaller than the standard bath bomb but still the same price. Not so impressed with this one but I do like the design.
Fun With A Twist Fun Bar | £5 // I've wanted to own this Fun bar for such a long time as it is Twilight and Dragons Egg scented. I wouldn't have thought these two scents went together very well but they do. My plan was to use them separately and I have cut the bar up to separate the colours but I might try at least one bath using both scents. I cannot wait to use the purple part and have a Twilight scented bubble bath alongside the bath bomb and shower gel.
Flutterby Bubble Bar | £4.95 //
So this bubble bar shares the same scent as the Yummy Mummy range. It's strawberries and cream scented and one of my favourites. I'm probably in the minority here, but I'm not a huge fan of the design of this one. I think the butterfly doesn't look very good and the bubble bar would have looked better without it. The bubble bar itself is huge though, similar to the size of The Comforter, so the price is a little higher than usual.
Somewhere Over The Rainbow Bath Bomb | £3.25 //
Sadly this bath bomb came a little damaged but not as badly as I was expecting from seeing photos from others. I could only order one of these as it sold out pretty quickly. I can't wait to use this one! The scent is mandarin, neroli and rose.
Down The Rabbit Hole Bubble Bar | £3.95 //
I love the fruit pastille scent of this bubble bar and I wish I had bought more than one!
Haagen Bath Bath Bomb | £4.10 //
This is one of my favourites as I love the mint scent. I bought a couple of the Christmas Angel version a while ago but am glad to have the original design now. It's incredibly moisturising and the scent always makes me want a bowl of mint choc chip ice cream.
I also love how the Kitchen include these polaroids of who has made the products along with the product itself. It's a nice way of keeping track of what you've tried and when it was released when you don't have the product itself anymore.