NOTD // Orly Preamp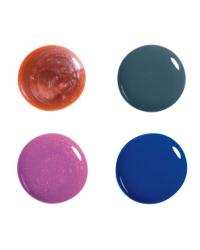 Synchro // Decoded // Preamp // Shockwave.
Preamp
was part of Orly's Autumn 2012 collection,
Electronica
. The other three colours in the collection are Synchro - a duo-chrome red/pink, Decoded - a blue-grey and Shockwave - a royal blue jelly. Decoded reminds me a bit of Models Own moody Grey.
Preamp* is definitely my favourite out of the four from the collection and the most unique, I don't have any polishes like it. It's a pink with very fine gold shimmer that sort of looks like very fine flakies. The shimmer can also look bright pink depending on the light. It sort of has a jelly finish to it so I usually apply three coats but can sometimes get away with two. It also looks really great with a matte top coat. Despite needing a few coats, this polish applies like a dream. It's smooth and goes on even, it only needs a few coats to build up a colour, not to even out the look of the polish.