[A'kin] Hydrating Mist
This is the last product I was send by
mypure.co.uk
and has to be my favourite!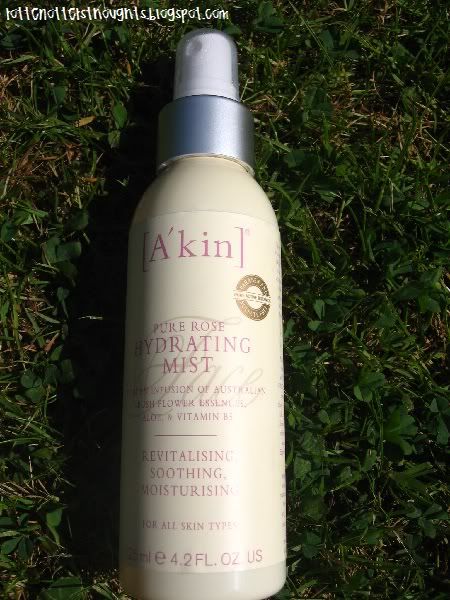 My skin hates the heat! My eczema flares up and I am likely to have a heat rash on my legs, not pleasant at all. This has been a life saver this month, especially the other weekend when England had a mini heat wave.
It does smell of roses but also reminds me of a flower drink I used to make (and could actually drink) when I was little, it's great as it brings back so many memories. I don't usually like flower scents because of my hay fever, I feel like it'll set it off even though it obviously wont :) With this though the scent is really refreshing and nice, it's quite strong after you first spray it but then blends really nicely into your skin.
I use this on a daily basis in the mornings all over my body instead of a heavy moisturiser which is perfect as I don't suffer from dry skin, despite my eczema.
I also carry it in my bag, the packaging is perfect, no leaking yet! The clear lid clicks into the bottle securely. Talking about the packaging, I really like it. It reminds me a lot of Liz Earle, really simple and just what I like. Anyway, I am able to whip the bottle out if I want to cool down a bit or quickly hydrate my skin.
I've also been keeping it on my bed side table for those horribly hot nights.
This retails at £12.99 which I believe is a reasonable price as I've been using it so much. More information about the product can be found
here
.
I am so pleased to have been given the opportunity to review this product as it's really become a life saver. I'll definitely be buying another bottle at the start of next summer and maybe another one if this one runs out soon!
xoxo
Disclaimer: I was sent this to review as part of a bloggers panel for
Mypure.co.uk
, this will not and has not influenced my opinion on this product. All my reviews are honest.