Lovea's Moroccan Argan Brilliance Shine Shampoo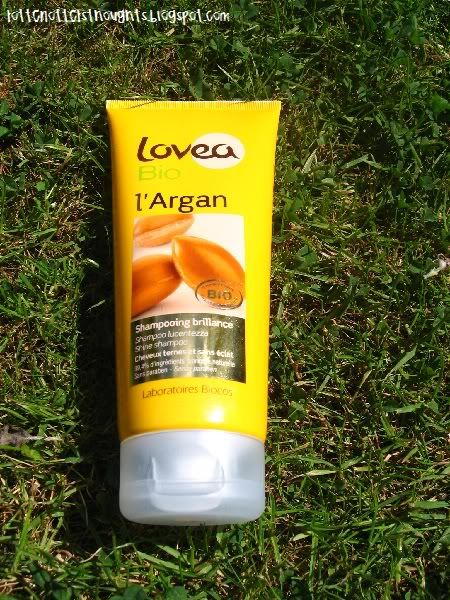 I'm trying to cut all the bad ingredients out of products I use and shampoos have been the hardest! Unlike skin care, I don't want to spend a lot of money on hair care so finding a cheap alternative was quite hard to do. Once I found one I found a million!
I wanted to finish the bottle of shampoo I was currently using before opening this one so I was able to read a couple of reviews which made me more excited to use it and put my own two scents out there.
I've been using it for about two weeks now so here's my quick but thorough review:
♥ I like the packaging, perfect colours for this lovely weather we are having
♥ A bit more of the information on the back to be in English would be preferred
♥ Love the smell but can't quite pin point it
♥ It's runny but I personally prefer that in a shampoo
♥ Lathers just as well as my other shampoos. It won't lather as well as say Herbal Essence as it doesn't contain SLS which is the lathering agent used usually
♥ Hair felt nice and clean afterwards
♥ My sensitive/eczema prone scalp wasn't irritated at all
♥ Not so sure my hair looked shinier, it's hard to tell with my curly/natural hair
♥ £4.99 for 200ml, about the average price I've found for this type of shampoo
Overall I really like it, I'd have to try the conditioner first to see if I'd buy it myself as I like using the two together. IF the conditioner is as good I'd definitely buy them both.
More information about this product can be found
here
.
If your looking into changing your routines to something more natural and organic then mypure is a great website! It sells everything you could imagine and so many different brands. I've put some of the bath salts on my Birthday wish list which I really want to try. You can also buy samples which is a really good idea, I ordered a shamp/cond sample when I was first started trying to change my products.
Are you one of the bloggers who have reviewed this? Link me to your review!
Have you ordered from Mypure before??
xoxo
Disclaimer: I was sent this to review as part of a bloggers panel for

Mypure.co.uk

, this will not and has not influenced my opinion on this product. All my reviews are honest.