A bit of shopping
I did a bit of retail shopping on Friday as Wednesday wasn't a very good day! Job interview + migraine = bad times :(
I didn't manage to find Barry M's mushroom in either Superdrug or Boots but I did get some of the other polishes I'd been after for a while. As you can see I took full advantage of the Superdrug/Boots 3 for 2 offer!
Revlon Minted (028), Revlon Lilac Pastelle (031), Barry M Berry Ice Cream (308), Barry M Pale Turquoise (295), Barry M Pale Pink (309) and finally Barry M Pink Iridescent (264).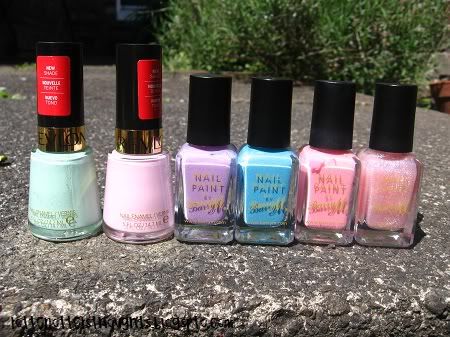 These three polishes were found at a car boot sale last week for a mere 50p for all three. There were more Nails Inc but as I was asking how much the polishes were a sneaky woman bought them, I wasn't happy! haha
Nails Inc Elizabeth Street, Barry M Bright Pink (279) and Barry M Gold (289).
Barry m's lip gloss wands smell amazing but this orange one has to be the nicest! It smells of starburst! It looks scary in the tube but worn lightly it can look lovely. Not so sure about the toffee one, once again it smells divine but I wish it didn't have so much shimmer in it. I love these Revlon glosses too, they are so pigmented and perfect summer colours.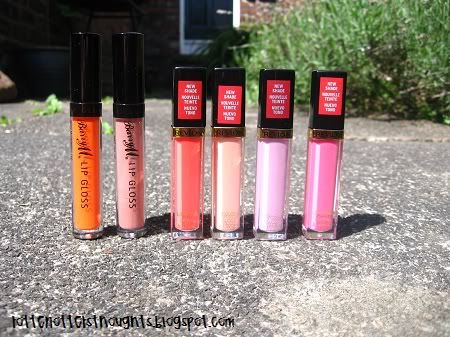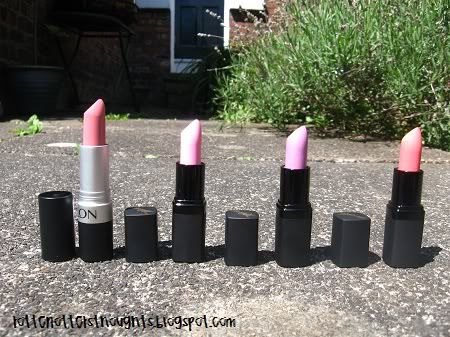 1. Barry M Palest Lavender lip paint (129)
2. Revlon Peach Petal lip gloss (150)
3.Revlon Lilac Pastelle lip gloss (200)
4. Revlon Pink Pop lip gloss (180)
5. Revlon Coral Reef lip gloss (170)
6. Barry M Baby Pink lip paint (100)
7. Revlon Pink Pout lipstick (002)
8. Barry M Peachy pink lip paint (147)
9. Barry M Tropical Tango lip wand (6)
10. Barry M Toffee lip wand (2)
Sorry I seam to be doing so many shopping posts! I've got some NOTD's and reviews lined up so they'll be posted soon :)
xoxo